HT Series
Overview
Materials
Pressure / Capacity Envelope
Driver
Applications
Overview
Nikkiso SGM - series canned motor pumps are centrifugal pumps which, due to their construction are hermetically encapsulated. The shaft seal usually required on centrifugal pumps is not necessary. The pumps are driven by integrated canned motors. Space requirements and noise emissions are much lower than those of conventional centrifugal pumps. The pumps are equipped with Nikkiso's unique E-Monitor.
The HT type is designed for hot fluid applications up to 400 deg C. The pump and the motor are separated by a heat barrier, the motor is additionally equipped with a cooling jacket and a heat exchanger.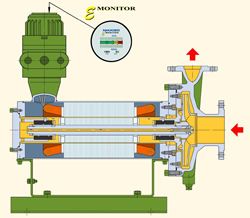 The rotor chamber is filled with the pumped liquid, which is circulated through the heat exchanger by an auxiliary impeller, the liquid also lubricates the bearings.
Compact size
Axial thrust balanced for long bearing life
Bearing wear monitoring
Nikkiso's block building system
High efficiency
Return to Previous Page