Viking's new Chocolate and Confectionery Pumps featuring a revolutionary new shaft sealing system
Viking has a strong share of the chocolate market and are the pump of choice at many of the major chocolate makers with more than a thousand Viking pumps operating at more than 50 plants.
Problems that have been highlighted with traditional pumps on chocolate applications include:-
Especially on chocolate liquor, cocoa butter separates out and can weep from packing and gaskets, which creates a slip and fall hazard, and requires housekeeping cleanup. External hygiene auditors don't want any leakage.
Many pumps use abrasive liquid seal to eliminate leakage, but those seals can fail when overpressured, the silicon carbide faces can chip, and those chips aren't caught in metal detectors.
Chocolate solids can burn and bind up in the bracket, behind the rotor, or in the idler bushing, locking up the pump. The solids can become like concrete.
QA and auditors want all food grade materials, with some documentation that the pump is made of food grade parts.
To summarize those customer needs, they want leakage prevention, improved reliability, a chocolate-specific pump series that enables commonality, and documented Food Safety.
To deal with leakage prevention, Viking developed an entirely new sealing concept exclusively for chocolate.
This device, called an O-Ring Seal Bushing, or OSB, combines a bracket bushing and seal gland into one piece, with double O-ring seals, in hardened cast iron, with back-pull-out accessibility.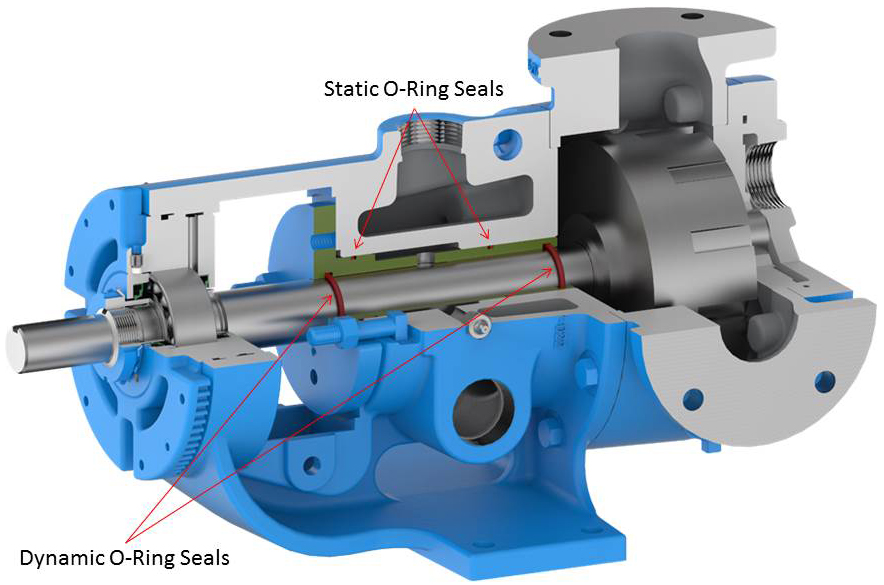 It fits a standard 124A or 224A pump, and uses
Dynamic O-ring seals to keep chocolate from migrating out along the shaft, and
Static O-ring seals between the OSB and the bracket, to prevent leakage outside of the OSB,
The area between each set of inner and outer O-rings is filled with food-grade grease, providing lubrication and acting as a double seal barrier fluid to prevent leakage along the shaft.
The exterior of the pump uses existing plugged holes in the bracket for a grease nipple, and a relief fitting, to ensure that you can't overpressure the O-rings. Grease is added until it appears out the relief fitting to ensure all air has been purged. When the pump is regreased, observing the grease coming out of the relief fitting can be a means of identifying if the primary O-ring has been compromised.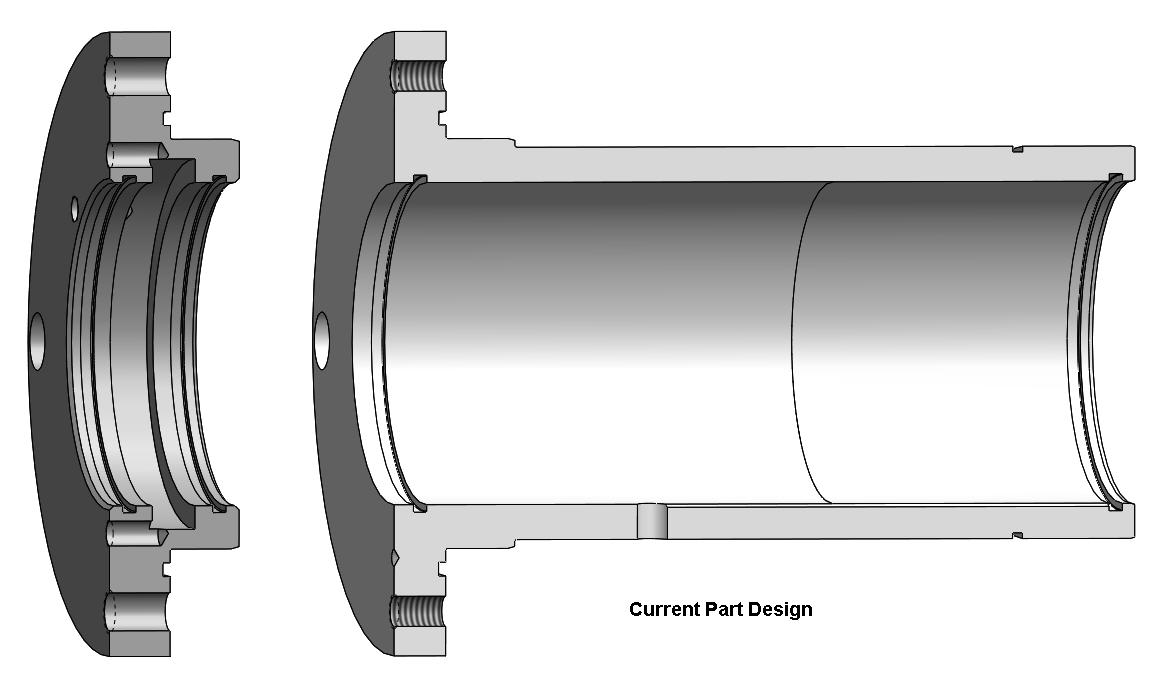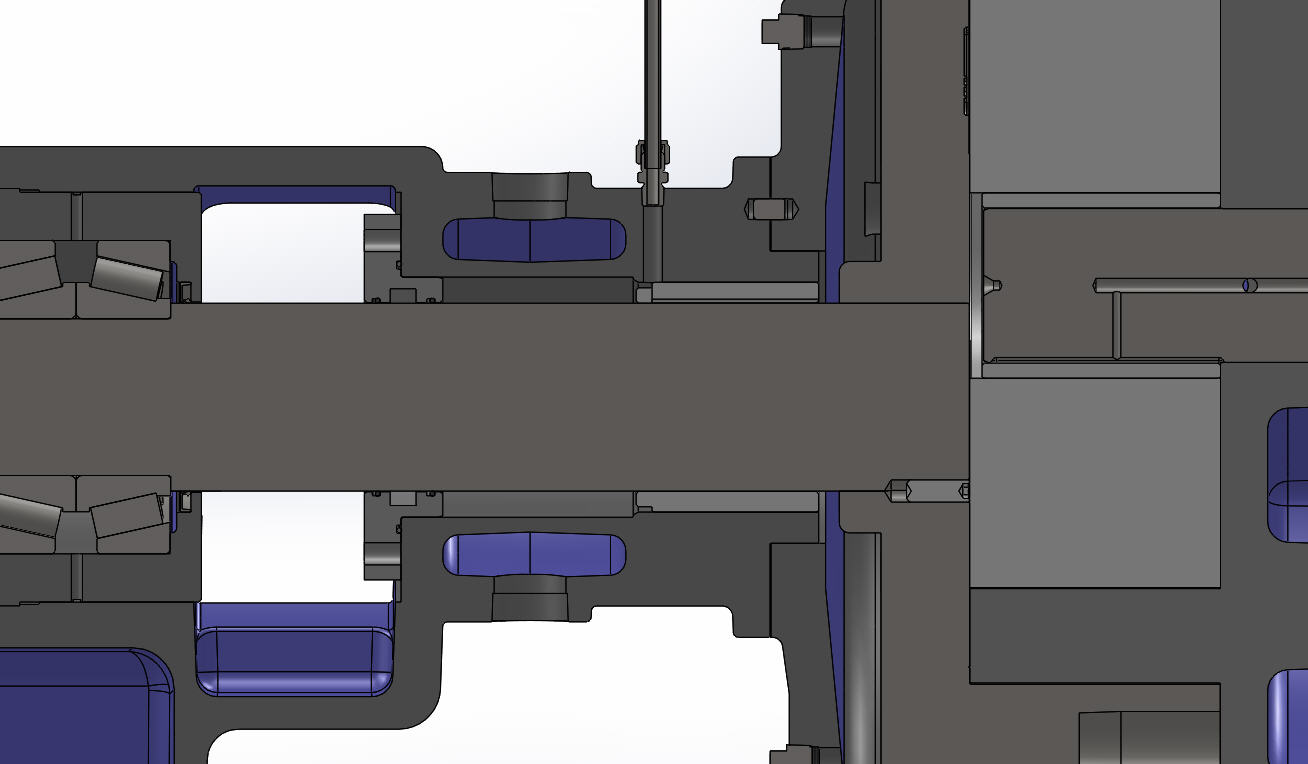 Some details about the O-Ring Seal Bushing.
There are two jackscrew taps for easy removal of the OSB.
The bushing section uses standard bushing clearances, since it does not see chocolate and is lubricated by clean grease. The interior of the support section is slightly larger to enable filling with grease. Top and bottom lubrication ports enable complete filling between the interior diameter of the OSB, and the shaft.
The rear gland flange is slotted instead of using holes, so you can rotate it for easier installation and then install the T-bolts to retain it. The front bushing area shows the lubrication groove at the 6:00 position, which is different from most of our fluid-lubricated pumps. This location ensures that warm grease is able to fill the groove and keep the shaft and bushing lubricated.
Users also advised that cocoa butter also weeps out at the casing and head gasket joints. So for complete leakage prevention, Viking upgraded those gaskets to Viking standard 801, which are Garlock Blue-Gard gaskets, using an SBR binder, for greater sealing power than standard 806 gaskets.
Viking addressed reliability by targeting the three areas where chocolate solids can set up and seize a pump: the bracket, behind the rotor, and the idler bushing.
First, the OSB itself keeps chocolate out of the bracket bushing and bracket, which eliminates a key area of chocolate entrapment and binding in packed gland pumps. And by lubricating the OSB with clean, food-grade grease instead abrasive chocolate, it ensures long life with no place for chocolate to burn, caramelize or seize the shaft.
The casings for the 224A-CHC1 chocolate pumps include both flush and suckback grooves to create flow behind the rotor. This also reduces thrust on the bearings compared to only one groove, and allows reversible direction of flow, or changing from right-hand to left-hand ports. They also allow faster flushing with edible oil when users switch from dark to milk to white chocolate with the same pump.
Finally, the drilled idlers, with hardened cast iron bushings, feature "AC" clearances on the H through LS sizes, and "BD" clearances on the Q & QS sizes. These clearances have been proven in many chocolate applications to provide highest reliability. Drilling the idler is an important feature to keep chocolate from burning between the idler bushing and pin.
To overcome the issue of too much variation within a chocolate plant, and between chocolate plants in the same company, Viking have developed a series of standardized chocolate pumps, the 224A-CHC1 Series. There are nine sizes ranging from H through QS, but most have multiple port options based on the wide variety of porting we found in our installed base of chocolate pumps, to enable easy replacement of existing pumps without repiping.
These will handle all liquids with chocolate solids, like cocoa liquor and all chocolates, from about 5,000 to 200,000 centipoise, and feature the flush and suckback grooves for added reliability. Because the grooves add slip, these pumps are not suitable for cocoa butter and similar thin liquids.
So Viking have also created the 224A-CHC2 series pumps, whose casings don't have flush or suckback grooves, for cocoa butter, fats and oils, and emulsifiers like lecithin, with viscosities from about 1 to 5,000 centipoise. All other components are identical, to encourage that commonality throughout a plant and to help customers minimize spares and confusion. The CHC2 pumps do have features like steel rotors and drilled idlers that may not be needed for cocoa butter, but the customer benefit is the commonality of parts, making them virtually interchangeable with any pump in the plant.
While most Viking pumps sold for chocolate are considered food safe, they did not conform to any recognized standard that an inspector could look at and know the pumps were food safe. The 224A-CHC1 and CHC2 series
Comply with EC 1935/2004, which is an EU standard that limits leaching of harmful materials from food processing equipment into food
This means that all Viking wetted materials in these pumps have been tested for leachability of harmful substances, all are food-safe
EC 1935 Compliance is standard with the 224A-CHC Series pumps. The EC1935 Cup and Fork logo is visible on the pump nameplate, and documentation is included in the TSM
Please note that the 224A-CHC pumps are not "sanitary" or "hygienic," they do not have 3A certification, and they are not suited to confectionery applications that are cleaned-in-place with acid or caustic.
Other features and benefits are provided as standard on these pumps including most of the options that would usually be specified on a chocolate pump, including:
Steel rotors on H, HL, K, LQ, LL, & Q sizes, and ductile iron rotors on KK, LS & QS. These high-strength materials enable high viscosity liquids to be pumped.
Hardened steel shafts – which minimize wear on the shaft by O-rings running in abrasive chocolates and liquor
Hardened Iron Bushings and Hardened Steel Idler Pins – to ensure long life on abrasive chocolates
The pumps are designed without relief valves because integral pressure relief valves can cause burning or be subject to binding on chocolate.
Reversible direction of flow – for application flexibility, which is possible since no valve is used, and since both flush and suckback grooves are provided.
Rotatable casings allow porting flexibility to fit in nearly any space, and use the same casing for left or right hand porting.
Viking have also standardized on jacketed brackets and heads. While many plants have hot rooms where they can use non-jacketed pumps, almost all chocolate factories also have pumps in ambient temperature areas that circulate hot water through the pump jackets. Keeping the chocolate series with jacketing as standard allows pumps to be moved between almost all applications in a plant, providing greater flexibility when needed.
The new O-Ring Seals are retrofittable onto existing 124A and 224A series pumps. The two exceptions are the Q and QS sizes, which require either a bracket modification or a new bracket.
Viking offer three levels of kits for their new chocolate pumps for pump conversion and maintenance:-
Seal kits enable conversion of existing 124A / 224A pumps to the O-ring seal design. They include the OSB, O-Rings, head and bracket gaskets, a grease zerk and a grease relief fitting, a seal sleeve on H-LL sizes, gland nuts and bearing replacement parts.
O-Ring kits include two sets of O-rings, one head gasket, two jackscrews, and a seal sleeve for H-LL.
Rebuild kits include the head and pin, the drilled idler with hardened cast iron bushing and special clearances, and head capscrews
Some specific points about Operation and Maintenance of the 224A-CHC Series pumps.
The O-Rings are replaceable with the pump in-place, which can offer ease of maintenance, but to get the OSB out, once you remove the bearing housing, requires either spacer couplings or pulling the head and the rotor/shaft.
Pump temperatures are limited to 225°F or 107°C to ensure O-Ring resilience for best sealing. Shaft rotation speeds are limited to ensure maximum life. The maximum allowable speeds listed in the specifications usually far exceed what most people use on chocolate.
Suckback and flush grooves on 224A-CHC1 pumps increase reliability, but also increase slip. CHC1 performance data in the brochure and pump selector takes this added slip into account.
Regular re-greasing of the bracket is required. Every 2-3 weeks is suggested, or use a pressurized grease pot.
Pumps are used throughout a chocolate factory whether it is a bean to bulk plant, a confectioner making bulk to bar or an integrated plant processing everything from bean to bar with some of these facilities may have more than 200 Viking pumps. Viking's new 224A-CHC1 and CHC2 pumps can handle all of the chocolate and confectionery liquids in these facilities.
Here are answers to some frequently asked questions about the new 224A-CHC Series chocolate pumps.
Is cast iron OK for chocolate? Yes. Iron is considered food safe. Chocolate isn't subject to bacterial growth, and chocolate lines are never CIPed or flushed with water, which could introduce bacteria. Particles from an iron pump are removed by magnetic separators in the process, while stainless steel particles may only be caught by metal detectors or X-rays scanning the finished product once it's packaged.
What if the chocolate processor wants stainless steel pumps? Some users do prefer stainless, especially for white chocolate, since they think that iron could color the white product. Viking can provide a stainless steel 227A pump with the hardened cast iron OSB, offering minimal iron exposure to the product, only at the end of the OSB. Or simply use a standard 227A or 724 packed pump. White chocolate is made from cocoa butter and sugar, and does not contain the chocolate solids that can bind up most packed pumps.
How long do O-rings last? Like any seal, it is application dependent. Annual replacement is suggested. Our experience with O-ring seals on sanitary pumps handling chocolate have been very positive. One pump had never replaced an O-ring in more than four and a half years of service on chocolate. O-rings can wear grooves in the shaft during the break-in period, even using hardened steel shafting, but that stabilizes and does not affect the sealing ability of the pump.
What about other applications? CHC pumps may be applicable elsewhere, but O-ring seals limit speeds and temperatures. Contact us for an application review.
What about other sizes? The current H-QS sizes cover 98% of chocolate applications, but Viking Pump will consider adding N, R & RS as needed.
In the past, many users felt that each different chocolate liquid required a special construction. To achieve commonality, though, Viking set a goal to develop pumps that could handle all applications in a chocolate factory – the CHC1 and CHC2 pumps. These pumps have been installed and proven in tough applications, like chocolate liquor, sugar free chocolate and white paste, along with the more standard range of chocolates and to-date all have been successful.
In summary, Viking's new CHC series pumps is exactly what chocolate customers are looking for:-
Leakage Prevention - provided by the double O-ring Seal with grease barrier, along with better gaskets
Reliability – which is improved by ensuring there's no place for chocolate to bind up – in the bracket, behind the rotor, or in the idler bushing.
Commonality of pumps and parts is ensured by creating a chocolate series that will work regardless of liquid, without lots of special parts or clearances
And Safety is ensured through use of food grade materials, and documented with EC1935 compliance