Testimonials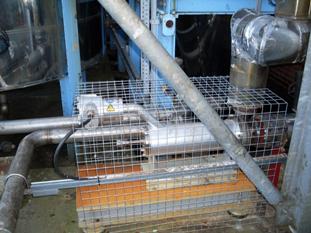 Energy-Efficient Canned Motor Pumps Help Cut Costs
Reducing maintenance costs and cutting energy bills has always been high on the agenda for most manufacturers, but never been more important than in the present situation of high energy costs and difficult economic climate. For applications where pumps are operating 24 hours per day, 7 days per week, this cost-saving 'focus' is especially important and when investigated and acted upon, can result in significant savings. A good example is at DSM Composite Resins in Ellesmere Port, Cheshire, one of Europe's leading manufacturers of polyester resins.
In 2006 DSM Resins made the decision to replace some of its ageing magnetically coupled pumps which were operating on Jarytherm hot oil service, operating at 250°C. These hot oil pumps were running 24/7, as part of a system providing an instant source of heat for the chemical reactors used for the resin production. Nikkiso high temperature HX Series canned motor pumps, supplied by Michael Smith Engineers were identified as the most suitable pumps to replace the existing magnetically coupled pumps.
The pump selected was an HX25D-G5 with a 30kw motor and produced an immediate efficiency improvement over the original 45 kW magnetically coupled pumps. On the same duty service the Nikkiso drew 23 kW, compared to the original pumps 45 kW, a saving of 40% on energy operating costs. Commenting on the pump's performance, Graham Wilkes, Industrial Engineer for DSM Composite Resins said, 'The Pump paid for itself within 12 months due to the energy savings and reduced maintenance costs, we are very pleased with the results'.
Two smaller HX24C-C5 Nikkiso pumps with 18.5 kW motors were installed at DSM Resins in July 2008 and once again produced instant efficiency benefits. These pumps drew 5.88 kW and 11.33 kW, compared with the original magnetically coupled pumps which drew 17 kW and 18 kW respectively.
However, the benefits are not just lower running costs, Nikkiso HX pumps also ensure savings on installation. This is because most magnet drive pumps operating on applications where temperatures are 250°C require cooling water to prevent the magnet area from overheating and the magnet strength weakening. The Nikkiso HX Series has a ceramic stator which requires no external cooling. This results in significant savings on installation as there is no need for additional pipework required to bring a water supply for cooling and an operating cost saving as there is no need for cooling water.
Other features and benefits of Nikkiso HX canned motor pumps include a one piece rotor / pump shaft, so any misalignment problems, and the subsequent maintenance issues associated with conventional pumps are eliminated. Also, Nikkiso pumps have only 2 journal bearings and a patented automatic thrust balancing system which ensures that both the axial and radial bearing loads are kept to a minimum. This results in longer bearing life and therefore reduced maintenance costs.
Michael Smith Engineers are able to supply the range of Nikkiso Canned Motor Pumps which are suitable for handling capacities up to 1000 m3/hr and maximum discharge heads up to 210 metres. High speed and multi-stage options for differential heads up to 420 metres can also be supplied. These compact, energy efficient, leak free pumps are ideal for handling corrosive, aggressive or expensive liquids, which must not come into contact with the atmosphere.
Graham Wilkes, Industrial Engineer for DSM Composite Resins
Graham Wilkes