Testimonials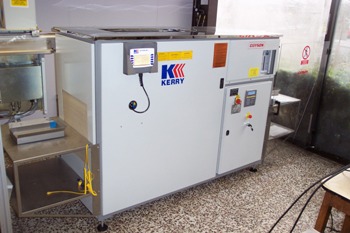 Centrifugal Magnet Drive Pumps Meet the Challenges of Ultrasonic Cleaning
Withstanding the rigorous conditions found in ultrasonic cleaning machines including the need to transfer volatile, near boiling solvents, has been a successful application involving Finish Thompson Centrifugal Pumps. The pump was suppled to Guyson International for testing on a demonstration by Michael Smith Engineers, the UK distributor for Finish Thompson Pumps. Yorkshire based Guyson International, is the largest independent manufacturer of blast finishing, spray wash and ultrasonic cleaning equipment Europe, supplying equipment, spares and consumables. Their 'Kerry' ultrasonic cleaning equipment includes both aqueous and solvent based systems which have applications in precision engineering, electronics, aerospace, metal finishing and medical manufacturing.
Ultrasonic cleaning works by introducing energy into a tank containing the cleaning solution and this causes minute bubbles to form and collapse with the solution. This action is cavitation and results in a very gentle, yet highly effective scrubbing action on the component surface which loosens the contaminant. As a result of this ultrasonic cleaning is acknowledged as a rapid and highly effective method of precision cleaning of components.
Where manual cleaning or spray wash methods are less effective with blind holes, tube internals or difficult to reach crevices, ultrasonic cleaning is proven to be an effective alternative.
The pump, a magnetically coupled centrifugal model in PVDF construction from the Finish Thompson DB range, was selected by Guyson following in-service reports had identified the potential for failures of the main circulation pumps on some models of their solvent cleaning machines. Guyson had identified that the combination of handling volatile, near boiling point solvents with a very low suction head had resulted in very low pressures at the pump inlet with NPSHa levels occurring of typically less than one metre. On many other types of pump this would cause severe cavitation and inevitably lead to regular failures.
The DB pump was tested on a demonstration ultrasonic cleaning machine and found to perform very well without any failure, under all test conditions. These operating scenarios included dry running, starved suction by closing the suction valve and dead-heading by closing the discharge valve. After extensive running the pump was taken out and stripped down and inspected for wear to the impeller, shaft, bearings and thrust rings. All were found to be in perfect condition.
The Finish Thompson DB range of centrifugal magnet drive pumps includes 8 series of pumps handling capacities up to 50 m3/hr and differential heads up to 43 metres. Their sealless mag-drive design makes them an ideal alternative to mechanically sealed pumps, particularly in corrosive duty applications. Superior run-dry capability helps to protect the pump from system upset or operator error and so eliminates expensive repairs and downtime.
John King, the Technical Support Manager at Guyson International commented,
"We had been searching for a suitable alternative pump for some time, so when our trials proved that the DB pump from Michael Smith Engineers was capable of withstanding the rigorous conditions found in our solvent cleaning equipment we were keen to incorporate them into our design." He confirmed, "So far we have had no in-service failures since changing to these pumps."
John King