Testimonials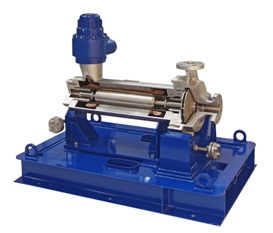 Terra Nitrogen (UK) is one of the big agriculture fertiliser manufacturers.
Fred Phelps, who has been Machines Engineer at Terra for over 40 years, says, "Michael Smith Engineers Ltd were very helpful and their Sales Manager, John Tyson, was knowledgeable and readily available. Our ammonia transfer to the nitric acid plant, which operates critically 24 hours 7 days a week, is now totally reliable."
Low ammonia levels in the storage tanks were identified as the possible source of operating difficulties for the original canned motor transfer pumps. These pumps suffered from random bearing failure: the resultant breakdown was often catastrophic, requiring the pump to be returned to the manufacturer.
The repair would mean the pump would be offsite for several weeks, leaving the plant vulnerable to further failures, and the bill was always expensive.
After Michael Smith Engineers Ltd reviewed the application and operating envelope, Terra installed 3 off Nikkiso vertically mounted in line centrifugal canned motor pumps, duty, duty assist and standby.
These pumps are fitted with progressive bearing monitors and, Phelps says, "They have now been running for three years without a single breakdown. The pumps' bearing monitors allow Terra to operate a planned maintenance regime, where the pumps are serviced in-house at a fraction of the cost and back in operation the same day."
Phelps concludes, "We are very pleased with the Nikkiso pumps recommended by Michael Smith Engineers Ltd. Their success on site ensures total plant reliability and the savings are thousands of pounds per year."
Fred Phelps