Testimonials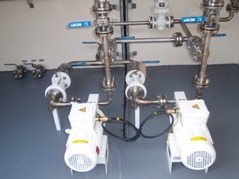 Pumps Handle the Pressure and Help to Inject Consistency into Additive Process
Introduction
Flotech Performance Systems manufacture specialist solutions for the storage, transfer and distribution of liquid and gas products including design, manufacture, installation and on-site support from their facility in Fareham, Hampshire. Among the wide range of systems they offer are additive and dye injection skids which are used on petroleum and chemical applications. These vary in scope from injection hardware skids through to full turnkey systems designed to meet individual customer requirements and can incorporate features such as additive storage, secondary containment pipework, pumps and pump control. For many additive applications, the primary function of the pumps is to ensure that they generate sufficient differential pressure for the additive to be injected efficiently and smoothly into the main process line. Further details at:www.FlotechPS.com
The Challenge
In most installations the operation of the pump and how it is controlled is crucial to the overall performance of the skid. Duty / standby pump systems will be controlled to provide alternate operation and to also start the standby pump should the duty pump fail to maintain the required differential pressure. Depending on the application, they may need to cover flow ranges up to 160 lit/min and differential pressures as high as 16 bar. Also in many situations the pumps need to be certified for use in ATEX hazardous locations.
The Solution
The pumps perform a vital role on these skids and must be able to cope with the challenges of handling high differential pressures, even when pumping low viscosity liquids.
For this reason Flotech Performance Systems have used Viking SG Series External Gear pumps on many applications.
The Benefits
Supplied by Michael Smith Engineers Ltd, the UK's leading pump specialists, Viking's SG range of spur gear design external gear pumps are ideally suited to the demands of Flotech's injection skids as they are able to pump low volumes of liquid at high differential pressures. As a consequence they provide a smooth, accurate output which can be easily monitored and adjusted, resulting in process consistency without wastage. Richard Harris, Technical Director at Flotech Performance Systems confirmed, "Here at Flotech we have enjoyed and appreciated working with Michael Smith Engineers for many years. The Viking gear pumps deliver the performance we require for our additive and injection skids". He concluded, "With a very good product portfolio and excellent customer service Michael Smith Engineers are often our first port of call".
Summary
Viking SG Series pumps are designed to ensure reliability in challenging high pressure, low capacity applications as illustrated by their performance over many years on Flotech's additive and injection skids. As seal leakage is the primary cause of pump downtime, Flotech often specify their SG Series external gear pumpsto be supplied with leak-free magnetic couplings. Viking SG pumps are available in 29 sizes for capacities up to 45 m3 /hr at differential pressures to 172 bar and operate on liquids with a viscosity range of 1.0 to 250,000 cSt. Materials of construction are ductile iron or cast iron and they can be supplied in a choice of lip seal, mechanical seal or mag-drive options.
Richard Harris