MICHAEL SMITH ENGINEERS EXPANDS TERRITORY FOR VIKING PUMPS
01 Jun 2023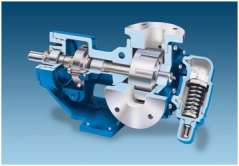 We are delighted to announce the expansion of our sales territory for VIKING INDUSTRIAL PUMPS to include Scotland, with effect from 1st June 2023. MSE is the only authorised distributor for Viking Industrial Pumps in the UK and this extension of geographical coverage underlines our excellent relationship with Viking Pumps since the partnership was formed in 2006.
As a leading supplier of specialist pumps, MSE have been providing innovative, cost-effective pumping solutions to challenging fluid handling applications for nearly 50 years and Viking Pump has become one of their most important products. Viking specialise in the design, manufacture and application of standard and custom-built positive displacement pumps for some of the most demanding fluids handling applications around the World.
The Viking range includes; Internal Gear pumps which, thanks to a wide variety of wetted materials, sealing and porting options, is the pump of choice for a huge range of diverse applications. Also, the SG Series of External Gear pumps for high pressure pumping duties in low capacity applications and the LVP Series of Vane pumps which are ideal for pumping thin liquids at high pressures.
The team at MSE are able to provide Viking Pump users with a wealth of practical and technical expertise for the entire range of Viking positive displacement pumps, having benefitted from specialised product training at Vikings facility in Shannon, Ireland.
Commenting on the new agreement, Barry McMahon, Viking's Regional Sales Manager for Europe, said "We are delighted to have Michael Smith Engineers onboard as our new Viking Industrial Distribution partner in Scotland, now increasing their coverage for Viking Pump products to all of mainland UK. With a strong customer focused philosophy and a team of experienced pump professionals whose goals & standards are very much aligned with Viking, we are hugely confident in Michael Smith Engineers' ability to serve our current customers and to grow our presence in Scotland."
Jason Downing, Sales Director at Michael Smith Engineers confirmed, "We are delighted to be expanding our territory to include Scotland for Viking pumps. This development not only emphasizes the excellent partnership we have built with Viking, but also demonstrates our commitment to providing exceptional support and effective pumping solutions to our customers throughout the UK".
He continued, "Our expertise and experience enables us to offer tailored solutions that meet the unique needs of various industries, including oil and gas, chemical processing, food and beverage and many others".